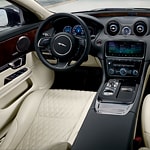 Racy, sporty, and speedy, the Jaguar XJ makes an impact as a luxury sedan with high praise from collectors and daily drivers alike, especially in cities like Chattanooga, TN where you have a mix of curvy backroads and smooth highways. Available in your choice of a dozen metallic or clear coat colors, this sedan is customizable to match your daily driver needs. The V6 engine is standard, while the V8 engine is supercharged. Both can reach from 0 to 60 in under 5 seconds, and both boast comfortable, spacious interiors.
Agile and lightweight with a strong aluminum structure, the Jaguar XJ's exterior features include adaptive, automatic LED headlights. These adapt to your driving conditions with high beams for when you need them. The wrap rear windshield offers panoramic views to better monitor your blind spots.
For test drives of the Jaguar XJ, come see our professionals at Jaguar Chattanooga. We hope to see you soon.