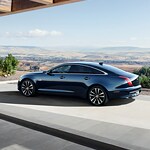 What are the best features you could think of on and in a luxury sedan? Pair what you think to the Jaguar XJ, a luxurious, popular sedan with big followings in Chattanooga and other cities across the United States. Sporty in speed and seamless in design and concept, this sedan bolsters your confidence with driver assistance features, like emergency brake systems and adaptive cruise controls, for safer, more secure rides.
You can choose from two styles of the Jaguar XJ, each in your choice of cool colors in metallic or clear coats. Exterior features? This sedan has a wrap rear windshield that allows you to safely see whatever is behind you. Plus, the adaptive headlamps ensure your roads to wherever are bright and clear.
If this blurb about the Jaguar XJ struck your interests, consider trading in. But first, come down to Jaguar CHattanooga for a test drive. You can try before you buy.